VMS Styrene Cement STANDARD
Manufacture Product Number : VMS-CM02-ST

VMS Styrene Cements are finely tuned, extra thin, capillary action adhesives formulated to let you easily cement polystyrene parts. Glue comes in two variants: standard (fast) and delayed (slow). Use fast type for general cementing, employ slow type for parts that require longer open times such as figures (adjusting limbs) or cementing single track links - easy shape entire tracks, create sagging - tracks will remain flexible around 1 h before they start to stiffen. No brush included as during our packaging tests cap affixed brushes proved imprecise due to bristle size and bad grip. We advise using standard fine nylon brush for best control and results. Instead of a clumsy brush our glue packaging sports PTFE (Teflon®) lined cap for maximum shelf life and zero permeation related product loss.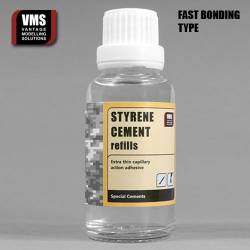 Type
=
Paint, Glues and Finishing Supplies
Category =
Glues
Date of Release =
2020-12-02
Status = Out of Stock
Darn it! This item is currently out of stock. You may order this item now and we will notify you when it's available again.
MSRP:
$6.00