M4 Sherman VVSS Suspension Set (Late Version)
Manufacture Product Number : TAS-35-008

Upgrade your M4 Sherman with this top of the line VVSS suspension set. Includes late version of return roller mountings, pressed road wheels with suspension, two types of idler wheels with suspension, and three types of drive sprockets and final drive covers.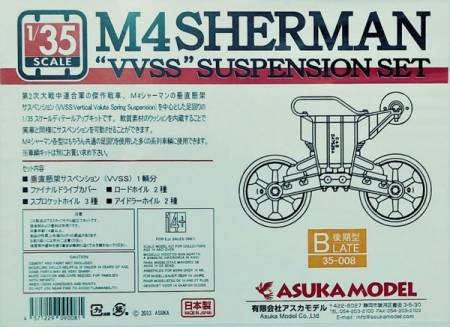 Type
=
Models
Period =
World War 2
Scale =
1/35 Scale
Material =
Plastic
Finish =
Unpainted
Date of Release =
2010-01-01
Status = 1-2 weeks Shipping
This item is not part of our regular inventory. Allow 1-2 weeks for item to arrive at MichToy. Because you are so patient you will automatically receive this item at a 20% discount.
MSRP:
$29.99
$23.99

20% off, you save : $6.00