(German) Late War Panzer Army
Manufacture Product Number : PSC-AB15001

This late war German panzer army box set will give you all you need to start fighting on the Eastern and Western fronts of WW2. Included in this box you will get 6x Panzer IV's, 4x Panthers, 4x SdKfz 251/D Halftracks, 2x Tiger I's, 47x Panzergrenadiers, including 3x LMG teams, Command and panzerfausts and panzerschrecks, 1x mixed base sprue and a generic decal sheet with balkankreuz.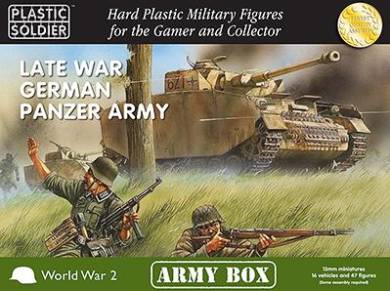 Type
=
Figure Kits, Busts and Accessories
Wargaming
Category =
Wargaming Vehicles and Miniatures
Period =
World War 2
Scale =
15mm (.6 inches or 1/100 Scale)
Material =
Plastic
Finish =
Unpainted
Date of Release =
2016-01-18
Status = Out of Stock
Darn it! This item is currently out of stock. You may order this item now and we will notify you when it's available again.
MSRP:
$77.99