Shakos And Bayonets: Napoleonic Supplement for Muskets & Tomahawks II
Manufacture Product Number : NMF BP1759

The Napoleonic version of skirmish-level ruleset Muskets & Tomahawks. Units are composed of individual bases, but there are still quite a lot of miniatures on display. If you like the grandeur of the Napoleonic era with the mechanics of Muskets & Tomahawks, here's a set to game out small actions.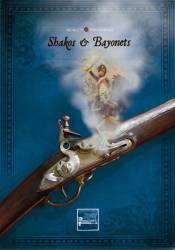 Type
=
Wargaming
Category =
Wargaming Rules and Systems
Period =
Napoleonic Wars
Material =
Hardcover Book
Expected Date of Release =
TBA
Status = Upcoming release
You may pre order this product at an extra discount of 10-20% (depending on the vendor). You will not be charged until the item arrives.
MSRP:
$32.00