North Star Africa - Oxen (2)
Manufacture Product Number : NMF AA19

Two Oxen.
Usable for lots of different periods and theatres, put into our African range so they can be bought to represent draft animals.
28mm sized models, require glue to assemble, made of metal and supplied unpainted.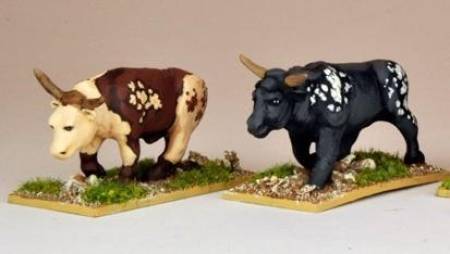 Type
=
Figure Kits, Busts and Accessories
Wargaming
Category =
Wargaming Vehicles and Miniatures
Period =
Good for Various Periods
Scale =
28mm (1/56 Scale or 1 and 1/8 inches)
Material =
Metal Figures Figures- Unpainted
Finish =
Unpainted
Date of Release =
2018-01-25
Status = 2-3 weeks Shipping
This item is not part of our regular inventory but is available to order. Allow 2-3 weeks for item to arrive at MichToy. Because you are so patient you will automatically receive this item at a 20% discount.
MSRP:
$7.50
$6.00
20% off, you save : $1.50