Age of Eagles Napoleonic Fire & Fury 2nd Edition
Manufacture Product Number : MWB-FAF80171

The first expansion to the rules covers the Befrieungskrieg 1813 - 14, the famous War of Liberation where the combined forces of Austria, Prussia, Russia, Britain and Sweden. This campaign was chosen not only because of the many colorful armies involved, but also due to the fact that reform and Napoleon not being at every battle actually gives the Allies a fighting chance. It was also decided to concentrate on battles both large (Dennewitz) and small (Schestedt), but emphasizing engagements that are not that well known.
Each 80 Page Scenario Book Contains:
Introduction - includes conversion schemes for Grande Armee, Napoleon's Battles and Volley & Bayonet. Blank Labels - to copy and use when you create your own scenarios. Imperial Glossary - Chasseur a Cheval de la Garde Imperial means what? Age of Eagles Supplement - the latest optional rules and interpretations.
Notes - for all the scribbling every gamer needs now and then.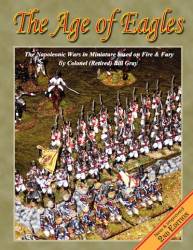 Scenarios:
Battle of Gross Beeren - 23 August 1813, Oudinot vs Bernadotte.
Battle of the Katzbach - 26 August 1813, MacDonald vs Blucher.
Battle of Kulm - 30 August 1813, Vandamme vs the Czar.
Battle of Dennewitz - 6 September 1813, Ney vs Bernadotte.
Battle of Wartenburg - 3 October 1813, Bertrand vs Yorck.
Leibertwolkwitz (Leipzig) - 14 October 1813, Murat vs Schwarzenburg.
Battle of Mockern (Leipzig) - 16 October 1813, Marmont vs Blucher.
Battle of Hanau - 30 October 1813, Napoleon vs Wrede.
Battle of Schestedt - 10 Dec 1813, the Danes vs the Russo-German Legion.
Battle of La Rothiere - 1 February 1814, Napoleon vs Blucher.
Battle of Orthez - 27 February 1814, Wellington vs Soult.
Battle of Toulouse - 10 April 1814, the last battle of the war.
Hohenlinden 1800 Bonus Scenario - courtesy First Empire Magazine.

Type
=
Wargaming
Category =
Wargaming Rules and Systems
Material =
Softcover Book
Date of Release =
2015-10-28
Status = Available
This item is Normally Stocked but may take up to two weeks for delivery if not in stock. We will notify you of any delays
MSRP:
$30.00