WWI German Veteran NCO Western Front 1917/18
Manufacture Product Number : JSM 27AH

Contents / Inhalt:
- Figure (8 parts) / Figur (8 Teile)
- Alternative Head (Field Cap) / 2. Kopf (mit Feltmütze)
- Water Bottle / Feldflasche M1907
- Haversack / Brotbeutel M1887
- Gas Mask M.17 / Gasmaske M.17 Metallbehälter
- Metal Cup M1916 / Tasse M1916
- Bayonet M1898/1905 / Seitengewehr M1898/1905
- Pistol 08 / Pistole 08
- Steel Helmet M.16 / Stahlhelm M.16
- Signal Flare Gun (2 parts) / Leuchtpistole a. A. – alte Art – old type (2 Teile)
- Separate Flare Gun Ammunition (6 parts) / Leuchtpistolen Patronen (6 Teile)
- Ammunition Box with Lid & Flare Ammunition Inlay (3 parts) / Munition Holzkisten offen
- Figure Base / Figur-Sockel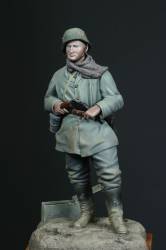 The figure depicts a German veteran near to the Front during late 1917 or early 1918 and was taken from a black & white photo on a book cover. Although it is hard to distinguish any forms of rank with the group of soldiers, one would assume that they are at least all Non Commissioned Officers (NCO) or Senior NCOs. The shoulder straps on the middle and right hand soldiers are too faded to indicate any detail and are too thin to be officer epaulettes.

From 1916 onwards it was increasingly difficult for the German Army to acquire experienced officers at platoon and company level and NCOs were frequently appointed to higher positions than their rank dictated (A typical Infantry Company at this stage of the war would have been led by a Lieutenant or Warrant Officer, the Platoon Commanders were Sergeants or Senior Corporals).

Type
=
Figure Kits, Busts and Accessories
Period =
World War 1
Scale =
120mm (1/16 Scale)
Material =
Resin Plastic
Finish =
Unfinished Resin Figure Kit
Date of Release =
2012-10-25
Status = 2-3 weeks Shipping
This item is not part of our regular inventory but is available to order. Allow 2-3 weeks for item to arrive at MichToy. Because you are so patient you will automatically receive this item at a 20% discount.
MSRP:
$69.99
$55.99
20% off, you save : $14.00