WWI German Sentry, Infantryman, Western Front 1917
Manufacture Product Number : JSM 25SP

Contents / Inhalt:
- Figure (8 parts) / Figur (8 Teile)
- Alternative Head (for Helmet) / 2. Kopf (für Stahlhelm)
- Ammunition Pouches M1909 / Patronentaschen M1909
- Water Bottle M1907 / Feldflasche M1907
- Haversack M1887 / Brotbeutel M1887
- Canvas Gas Mask Holder / Segeltuchtasche für Gasmaske
- Metal Cup M1916 / Tasse M1916
- Spade M1887 / Spaten M1887
- Bayonet M1898/1905 / Seitengewehr M1898/1905
- Mauser Rifle 98 / Gewehr 98
- Trench Magazine / Ansteckmagazin (Grabenmagazin)
- Steel Helmet M.16 / Stahlhelm M.16
- Large Figure Base / Gr. Figur-Sockel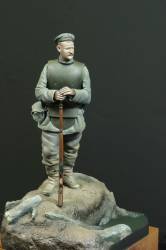 The figure depicts a German Infantryman on duty in the Front Line area during the winter 1917/18. He wears the armoured plate body armour associated with troops on guard duty, snipers or MG personnel within exposed areas of the Front.

The German Soldier of 1917 and 1918. The German soldier in 1917/18 had changed somewhat from his comrades of 1914. Firstly, he would have been much younger - on average about 18/19 years of age after finishing training - NCOs a year or two older. The style of his uniform differed not only in quality but function as well, with many items of clothing and equipment produced in Ersatz material, or a combination of mixed dress. Infantry Companies within the Front Line areas numbered on averaged 75 - 80 soldiers, some as low as 50 (a full Company strength would be around 135 men), with the bulk of its fighting capacity and experience held by only 15 - 20 old sweats. As the war progressed more emphasis was put onto automatic weapons and as many as 4 MG 08/15s per Infantry Company were to be found.

Type
=
Figure Kits, Busts and Accessories
Period =
World War 1
Scale =
120mm (1/16 Scale)
Material =
Resin Plastic
Finish =
Unfinished Resin Figure Kit
Date of Release =
2012-10-25
Status = 2-3 weeks Shipping
This item is not part of our regular inventory but is available to order. Allow 2-3 weeks for item to arrive at MichToy. Because you are so patient you will automatically receive this item at a 20% discount.
MSRP:
$69.99
$55.99
20% off, you save : $14.00