Zenithian Class 2
Manufacture Product Number : HYD-1402

Pack contains one Zenithian class 2 rocket and flight bases. Miniature supplied unpainted and unassembled. Sculpted by Steve Meli. Display model painted by Matt Beauchamp.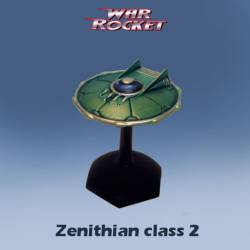 Type
=
Wargaming
Models
Category =
Wargaming Vehicles and Miniatures
Period =
Space and Sci-Fi
Scale =
1/300 Scale
Material =
Metal Figures Figures- Unpainted
Finish =
Unfinished Model Kit
Date of Release =
2019-12-15
Status = Out of Stock
Darn it! This item is currently out of stock. You may order this item now and we will notify you when it's available again.
MSRP:
$7.00