The Triumph of Titus Flavius Vespasian I- Set 1
Manufacture Product Number : GMF 72-1001


5 unpainted Resin Figures in 3 Poses
Set no. 1 contains:
1 Senator, 2 legionaries with trumpet, 2 legionaries with standards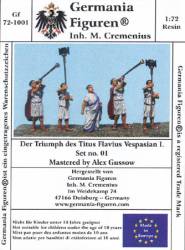 When a revolt broke out in Judaea in 66 CE, initial Roman efforts to suppress it met with failure, and Rome only began to make progress once the emperor Nero sent Vespasian and three legions to restore order. The war dragged on for four years, until the fall of Jerusalem in 70 CE (although some sporadic resistance continued for several more years), by which time Vespasian had been proclaimed emperor and his son, Titus, had assumed command of the operation. Father and son held a joint triumph in Rome in 71, famously depicted on the Arch of Titus in the Roman Forum, and it is this event that is depicted in the series of figures of which this is a part.

This first set in the series shows a man in a toga, and therefore a Roman citizen of some worth. In fact this is likely to be either Vaspasian or Titus themselves, since he also wears a laurel crown. Neither the face nor the physique suggest a young man, so our guess is this is Vespasian (Titus was only 31 at the time). He would have been riding a splendid chariot, acknowledging the cheers of the crowds.

Beside Vespasian is a man holding a plaque and another with a trumpet. The plaques, as depicted on the Arch of Titus, bore the names of captured towns and peoples, and here the poles are made of wire as such items would not survive if made of resin. The trumpets would give a suitably triumphal musical accompaniment to the procession, but it should also be noted that amongst the treasures on display during this triumph were silver trumpets taken from the Temple in Jerusalem, so these could just as easily represent this loot.

All these figures are beautifully sculpted with all the natural folds that would be expected on the quite loose clothing. Both the toga and the tunics are properly done, and as can be seen the plaques and trumpets are separate items. The trumpets fit the cupped hands of the musicians very well, but the hands of the other bearers are closed fists, meaning some work would be necessary to attach the plaque poles. Still these are nice clean casts with no flash, so very nicely produced.

Type
=
Figure Kits, Busts and Accessories
Period =
Ancient Rome
Scale =
1/72 Scale (22mm or 1 inch)
Material =
Resin Plastic
Finish =
Unfinished Resin Figure Kit
Date of Release =
2014-03-05
Status = Available
This item is Normally Stocked but may take up to two weeks for delivery if not in stock. We will notify you of any delays
MSRP:
$18.99