Creating a Military Modelling Diorama
Manufacture Product Number : CPP-9044

This book provides step-by-step instructions on how to plan, design and build a diorama and is suitable for new
and more experienced modellers. With over 270 colour photographs, it considers all scales
from 1/87 (H0) to 1/32 and their implications for the diorama builder.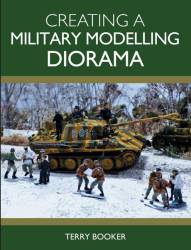 Type
=
Books, Magazines, Catalogs and Videos
Category =
Books-Modeling-Diorama-Terrain-How To
Material =
Softcover Book
Date of Release =
2021-08-28
Status = New Release - Currently Out of Stock
New Release - Currently Out of Stock Wow! These sold out fast. But fear not as we have more on order. You may order this item now and we will notify you when it's available again. You will receive a 10% discount for this item.
MSRP:
$29.99
$26.9910% off, you save : $3.00