Napoleon's Polish Gamble: Eylau & Friedland 1807
Manufacture Product Number : CBP-5260

Napoleonís 1807 campaign against the Russians came close to being his first defeat.At Eylau the Emperor was outnumbered by the army of the Russian commander Bennigsen, yet he accepted battle. His reputation was saved by the flamboyant Murat, who led one of the greatest cavalry charges in history. Christopher Summervilleís gripping account of this bitterly fought clash and of Napoleonís subsequent triumph at Friedland is the first extensive study of the campaign to be published for a century. The story is told in the concise, clear Campaign Chronicles format which records the action in vivid detail, day by day, hour by hour. Included are full orders of battle showing the chain of command and the fighting capabilities of the opposing armies. 192 page hardcover book with 60 illustrations.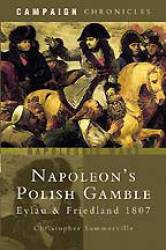 Type
=
Books, Magazines, Catalogs and Videos
Category =
Books- Napoleonic Era
Period =
Napoleonic Wars
Date of Release =
2010-01-01
Status = 2-3 weeks Shipping
This item is not part of our regular inventory but is available to order. Allow 2-3 weeks for item to arrive at MichToy. Because you are so patient you will automatically receive this item at a 20% discount.
MSRP:
$39.99
$31.99

20% off, you save : $8.00