Wings Of Glory WWI Miniatures: Sopwith Camel (Kissenberth)
Manufacture Product Number : AGS WGF102D

Designed to be used with the popular air combat game system created by Andrea Angiolino and Pier Giorgio Paglia, each WW1 Wings of Glory® Airplane Pack is a ready-to-play model, painted and assembled, 100% compatible with any other WW1 Wings of Glory game product.
In each pack you will find all you need to play with the airplane: a special base with gaming stats, a variable altitude flying stand, and a specific deck of maneuver cards.
Contents of Pack: one 1/144 scale model, flight stand with game stats, 4 altitude stands, airplane card, maneuver cards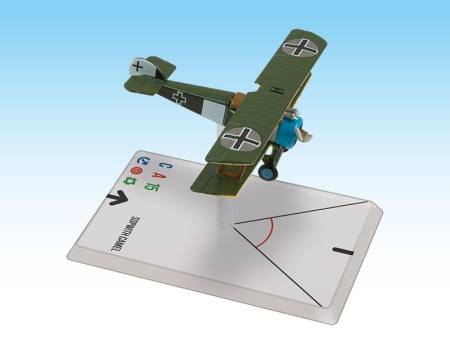 The Sopwith Camel was a British single-seat biplane, introduced on the Western Front in 1917. It was a superlative fighter, credited with shooting down 1,294 enemy aircraft, more than any other Allied fighter. It also served as a ground-attack aircraft, especially near the end of the conflict, when it was outclassed in the air-to-air role by newer fighters. It was equipped with two forward-firing synchronized machine guns mounted just ahead of the pilot's cockpit under a raised fairing, which is said to have inspired the name Camel.
Sopwith Camel (Kissenberth)
The ace Otto Kissenberth shot down his final victim using a captured British Sopwith Camel on 20 May 1918, dying nine days later, in a crash while flying the Camel, ending his combat career.

Type
=
Wargaming
Category =
Wargaming Rules and Systems
Period =
World War 1
Scale =
1/144 Scale
Material =
Plastic
Finish =
Pre-painted
Date of Release =
2019-09-07
Status = Available
This item is Normally Stocked but may take up to two weeks for delivery if not in stock. We will notify you of any delays
MSRP:
$15.99