Wings Of Glory: Fokker Dr.I vs. Sopwith Camel
Manufacture Product Number : AGS WGF001A

Wings of Glory™ is a game system that allows players to recreate aerial combat during World War I and II, using cards and miniatures to represent the airplanes and their maneuvers. In Wings of Glory players will control one or more airplanes, taking to the skies to engage their opponents in aerial duels, or trying to accomplish a specific mission, such as recon, escort, or bombing.

WW1 Wings of Glory Duel Pack is the ideal starting point to play Wings of Glory. It includes everything you need to start playing: a rulebook with Basic and Standard rules, maneuver and damage cards, 40 counters, two measuring rulers, two airplane consoles and two airplanes, with special gaming bases, in 1/144 scale, fully assembled and painted. The pack also features Target, Trench and Anti Aircraft Machine Gun cards, to play a number of different scenarios.

Features the iconic Fokker Dr.I and Sopwith Camel, piloted by the aces Von Richthofen and Brown.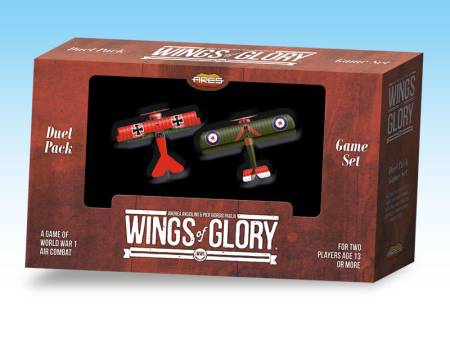 Type
=
Wargaming
Category =
Wargaming Rules and Systems
Period =
World War 1
Scale =
1/144 Scale
Material =
Plastic
Finish =
Pre-painted
Date of Release =
2021-02-18
Status = Out of Stock
Darn it! This item is currently out of stock. You may order this item now and we will notify you when it's available again.
MSRP:
$29.99