Ultima Ratio

1/72 scale plastic figures imported from the Ukraine.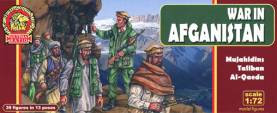 Ultima Ratio
UUR-UR001
1/72 Scale (22mm or 1 inch)
Back Ordered by Manufacturer
This item is on back order from the manufacturer and arrival date is unknown. You may order this item now and we will notify you when it's available.
You will receive a 15% discount for this item.
MSRP:
$16.00
Back Ordered by Manufacturer
20% competitive overwriting
$14.40
10% off, you save : $1.60

Ultima Ratio
UUR-UR002
1/72 Scale (22mm or 1 inch)
Available
This item is Normally Stocked but may take up to two weeks for delivery if not in stock.
We will notify you of any delays
MSRP:
$16.00
Available
20% competitive overwriting
$16.00
Ultima Ratio
UUR-UR004
1/72 Scale (22mm or 1 inch)
Available
This item is Normally Stocked but may take up to two weeks for delivery if not in stock.
We will notify you of any delays
MSRP:
$16.00
Available
20% competitive overwriting
$16.00