Glory Hallelujah!
Manufacture Product Number : WLG WG-BP009

This supplement for Black Powder describes the history, armies, key leaders, doctrine and tactics of the American Civil War, and includes a comprehensive set of army lists and optional rules for recreating the battles of that war in miniature. 180 pages packed with wonderful photography and superb scenarios!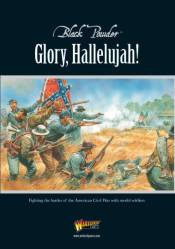 Type
=
Wargaming
Books, Magazines, Catalogs and Videos
Category =
Wargaming Rules and Systems
Period =
American Civil War
Material =
Softcover Book
Date of Release =
2016-06-20
Status = 2-3 weeks Shipping
This item is not part of our regular inventory but is available to order. Allow 2-3 weeks for item to arrive at MichToy.
ecause you are so patient you will automatically receive this item at a 20% discount.
MSRP:
$38.00
2-3 weeks Shipping
Upcoming release
20% competitive overwriting
$30.40
20% off, you save : $7.60