Across A Deadly Field Regimental Rules for Civil War Battles
Manufacture Product Number : OSP-ADF1

About this book
Author: John Hill Illustrator: Mark Stacey. 148pp, Hardcover
The American Civil War was a turning point in the history of warfare, as Napoleonic tactics met deadly new technology. Cannons and rifles had become more accurate at longer ranges, rapid-fire pistols gave cavalry a new weapon, and the telegraph and railroad completely altered both strategic and tactical thinking.

Across a Deadly Field, the new regimental-level wargame from Osprey Publishing, allows players to recreate this tumultuous period of warfare on the tabletop. Its versatile rules make it possible to refight any battle, from the early skirmishes of Ball's Bluff and Big Bethel to the grand, set-piece battles such as Gettysburg that decided the war. Written by John Hill, designer of the Johnny Reb series, Across a Deadly Field offers both new and experienced wargamers a fast-paced and dynamic game where even a single regiment can make the difference between victory and defeat.
Contents
Introduction
Basic rules
Advanced rules
Scenarios
Quick reference sheets
Index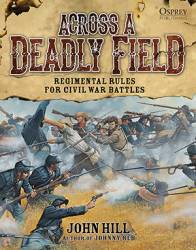 In the field of tactical wargame designs, few designers have had as much impact as John Hill. In the 1970s, John started his own company to design and publish tactical and operational games that broke from traditional wargame mechanics. Realizing that he preferred designing wargames over running a business, John sold the company and became a freelance wargame designer. From then on, John's designs for Avalon Hill, SPI, SDC and others became noted for their innovative approaches to simulating unique tactical situations. In 1977, John designed Squad Leader for Avalon Hill. Squad Leader broke the mold for how tactical combat was portrayed on the gaming board, and its impact is still felt today. The first freelance wargame designer inducted into the Origins Hall of Fame, John is perhaps best known for his Johnny Reb rules for the Civil War. After 25 years, Johnny Reb - now into its third edition - remain as popular as ever. In the 1980s, John's flair for innovative tactical simulation brought him to the attention of the Government's Defense and Intelligence communities and, for the next 16 years, he worked as a senior military analyst. Following a final four year tour at Los Alamos National Laboratory, John retired from government work and returned to gaming, updating and republishing many of his older designs and, once again, exploring new directions in tactical simulation. The author lives in Santa Fe, NM.

Type
=
Wargaming
Category =
Wargaming Rules and Systems
Period =
American Civil War
Material =
Hardcover Book
Date of Release =
2014-09-26z
Status = Available
This item is Normally Stocked but may take up to two weeks for delivery if not in stock. We will notify you of any delays
MSRP:
$39.99
Detect Manufacturer Monthly Specials
Coupon OK on this Manufacturer
Monthly Special S was here !!!
Available
Upcoming release
20% competitive overwriting
Our price
$31.99
20% off, you save : $8.00