The Paint Guide for Figures of World War Two
Manufacture Product Number : HNC-2982

A beautifully assembled kit is always enhanced by the presence of a well-painted figurine. This statement has become a profession of faith for the author of this book, Joaquin Garcia Guazquez, one of the world's armored modeling elite; here he has chosen to give us the benefit of his experience painting figurines from WWII, the supreme period for military modeling. Very instructively, using a lot of photographs, and step by step he explains how to paint a successful figurine, from the choice of tools, from the work area to the preparation of the figurine, painting the flesh parts, the uniforms and the accessories, etc. This is required reading, intended to guide you and inspire you when painting figurines to go with your next armored vehicle or action-packed scene.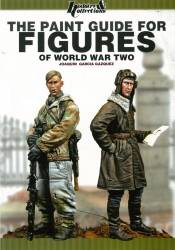 Contents
1. Preface
2. The Basics of painting with acrylics
3. Necessary equipment
4. Figure assembly and preparation
5. Painting of complexions (faces)
6. Uniform painting
7. Clothing in leather
8. Camouflage uniforms
9. Accessories
10. Staging
11. Vignettes with figures
12. Gallery
13. Technical Gallery
14. Epilogue

Type
=
Books, Magazines, Catalogs and Videos
Category =
Books-Modeling-Historical Figures
Period =
World War 2
Material =
Softcover Book
Date of Release =
2015-02-17
Status = Out of Stock
Darn it! This item is currently out of stock.
You may order this item now and we will notify you when it's available again.
MSRP:
$29.99
Out of Stock
Upcoming release
20% competitive overwriting
$23.99