Blitzkrieg: Lightning War (1939-41)
Manufacture Product Number : EUR-EMP19

This book is a study on the German Army early in World War II. The operations that defined Blitzkrieg are studied as well as the armor, aircraft, weapons, and uniforms involved. 215 page hardcover book.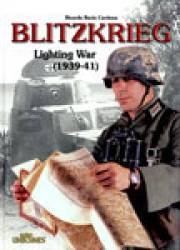 Type
=
Books, Magazines, Catalogs and Videos
Category =
Books- Uniforms-Militaria-Weapons
Period =
World War 2
Material =
Softcover Book
Date of Release =
2010-01-01
Status = 2-3 weeks Shipping
This item is not part of our regular inventory but is available to order. Allow 2-3 weeks for item to arrive at MichToy.
ecause you are so patient you will automatically receive this item at a 20% discount.
MSRP:
$69.99
2-3 weeks Shipping
Upcoming release
20% competitive overwriting
$69.99