The Battle of Hastings
Manufacture Product Number : EUR-EMP10

104 pages with color photos and illustrations. English text. Outstanding reference with unsurpassed detail.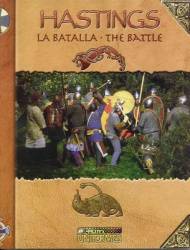 Type
=
Books, Magazines, Catalogs and Videos
Category =
Books-Modeling-Aircraft
Period =
World War 2
Date of Release =
2010-01-01
Status = 2-3 weeks Shipping
This item is not part of our regular inventory but is available to order. Allow 2-3 weeks for item to arrive at MichToy.
ecause you are so patient you will automatically receive this item at a 20% discount.
MSRP:
$39.99
2-3 weeks Shipping
Upcoming release
20% competitive overwriting
$39.99